After COVID-19 we have not had many events at St John's in Annan and hope to in the future.
Rev'd Martin Callaghan Remembrance Sunday 13th November, 2022
A litter campaign is ongoing with other churches in Annan (ACT).  Hi-Vis tops, litter pickers, gloves, bags and bag rings have been purchased and given out to the churches in a hope that lead by churches, communities may join with us in collecting litter to make our communities a cleaner place and encourage people to stop dropping so much litter.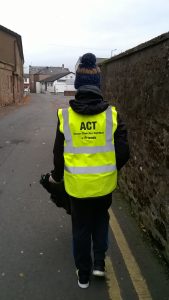 The facebook page is up and running.  Hopefully will continue to grow and spread the good news.